ARTICLE
Online weather routing – why does constant recalculation create value?
Voyage planning has existed ever since sailing became a mean of transportation.
Owners and charterers have always tried to optimize the value of fuel against the value of time. Should you arrive earlier or slow down and save bunker? How can we make sure the vessel arrives on time without taking too much risk? Today's technological advances have made it possible to answer these questions even more precisely in the quest for maximizing value.
As multiple variables such as bunker consumption, ETA, freight rates, fuel prices, and weather affect the outcome of a voyage, the importance of being able to make correct accurate calculation in a short period of time becomes even more important than ever before. As the variables constantly change the value of constant recalculation and optimization increases, and it becomes a method for decision-makers to create the margins needed in a highly competitive environment.
In this article we will discuss the significance of constantly being able to optimize and recalculate your voyage planning and how it is drastically different from existing methodologies. It will also highlight why the Coach Solutions voyage optimization software delivers profit to shipping organization worldwide by taking multiple variables into account.
Coach Solutions offers the leading solution for voyage optimization and gives operators the capability of including multiple parameters in the voyage planning process. The optimization includes among others the current actual performance of the vessel, taking the current fouling level into consideration in addition to weather forecast for wind, waves and currents, freight rates, and fuel costs.
The operator can further decide on which parameters to optimize when the constant recalculations takes place during the voyage and will be updated on overall performance – both against a charter party and the different optimization parameters. This can for some operators sound like a fantastic idea, but the reality is that Coach Solutions already offers this product ready and available today to give our clients a competitive advantage.
Traditional route optimization tools vs. algorithmic based solutions
For many years, the standard way of starting a voyage has been the operator informing the master that his vessel must go to a specific port and be there within a certain laycan. The master will then plan the route, potentially together with a routing company, where they will use a standard speed/consumption table and their focus will be to keep the vessel and crew safe, and make sure not to run late.
This approach has been used for decades, but unfortunately is not designed to take multiple different variables into consideration. The challenge with traditional route planning is that the optimization variables are never constant. Freight markets change, bunker prices change and, even more importantly, the weather constantly changes. To optimize the voyage planning across an entire fleet a system must be in place that can consider all the possible routes and optimize both on safety and commercial considerations.
The first step to take, in order of making a true optimized route, is understanding the vessels current performance and be able to predict its performance under different speeds and weather conditions. For Coach Solutions we use multiple different input sources that are available such as: noon-report data, high frequency sensor data, general arrangement plans, sea trials, main engine shop tests, and vessel model data, such as towing test and other relevant information to describe a given vessels performance.
Using Coach's algorithms and naval architecture insight the Coach software can predict a vessels performance in different weather conditions with a high degree of accuracy. Having this information available gives the user the insight to choose the voyage, which generates the highest return within the different voyage constraints optimizing both consumption, speed, ETA, and TCE. Coach Solutions provides the best platform for operators to make data driven decisions and optimizing value.
How does it work?
There is a saying "garbage in garbage out"!
To give the most accurate voyage recommendations it is important to get as many validated inputs as possible. Coach Solutions onboard reporting tool allows for the collection of validated data which can support the optimization process. The chart below describes the process of deriving the best possible voyage optimization route across an entire fleet of vessels in different sizes and segments.
As Coach's algorithms are constantly optimizing each route depending on the input given the operator can focus on other important operational matters as the Coach system will make sure, the operator gets maximum return on the voyage based on the current conditions. Once the vessel has reached the discharging port the operator will automatically receive a voyage assessment report giving an overview of how the vessel has performed according to the charter party.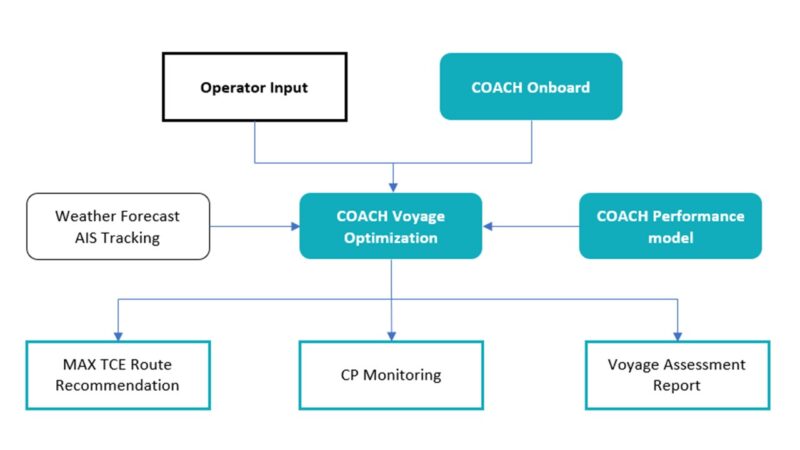 As the operator has full control over which vessels are in the system and can add new vessels in minutes via the online portal, the COACH voyage optimization system is always ready to optimize any given voyage no matter if it is just a short trip vessel or a long-term charter vessel.
Enabling decision makers to take profit maximizing actions
The Coach system capability to balance the algorithm-based weather routing with the advanced vessel performance models with the different external commercial variables gives the desired outcome of a truly optimized voyage recommendation. Coach has a long history in understanding both the owners and operators and their daily challenges which gives users necessary warnings to make data driven decisions and optimize TCE, ETA or fuel consumption.
The Coach clients have seen an uplift in voyage profits after starting to utilize the Coach Voyage Optimization system. Today's market requires owners and operators to optimize on all margins to get the best result possible. Coach assist in taking complex calculation with many variables and making it simple for the user in making the right decisions at the right time maximizing voyage profits.
---
How can our solutions help you?
The Coach Solutions vessel performance software can advise you of the current hull performance of a vessel allowing you to determine when it is time to make a hull cleaning.
The Performance Team from Coach Solutions will create what we call a "digital twin". We call this performance indicator "speed percentage" and it describes how a vessel should be able to perform in optimal conditions with no fouling. This data is compared with actual performance data deriving from noon reports and any variance will be categorized as a performance loss.
Our vessel performance software determines if and by how much a vessel is under performing and calculates how much fuel and emissions you will be able to save if a proper hull cleaning is carried out.
What kind of savings are we talking about?

The above graph is showing a vessel's actual performance over time (the blue trend line) A "speed percentage" of 100% is based on optimal hull performance of a vessel. The left side of the graph is showing that the performance of the hull decreases over time from 93% to 90% before a needed hull cleaning is carried out.
The right side of the graph shows the immediate and obvious effect of the hull cleaning. The hull performance is improved from 90% prior to 98% after the hull cleaning.
A vessel with a 10% hull under performance is by "rule of thumb" using up to 25% to 30% more fuel – i.e., a vessel using 50 metric tonnes of fuel per day with no fouling is using 12-15 metric tonnes of fuel extra per day with a 10% hull under performance. With today's bunker prices this example is resulting in a daily loss of USD 6,000-7,500! This is not petty cash….
Other Articles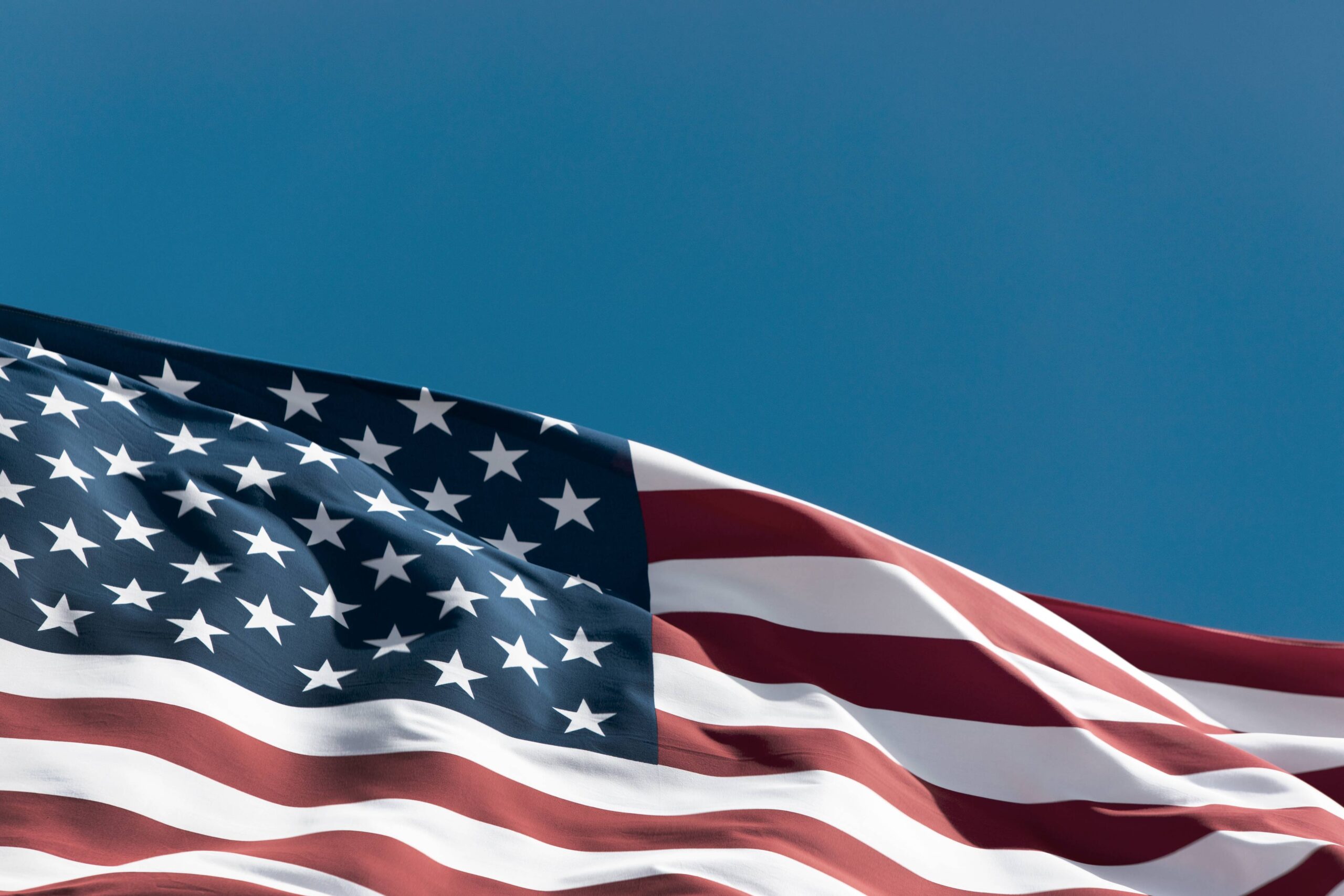 Coach Solutions opens office in the US.
As a result of the continued growth and development over the last years, we are expanding our international reach and opening a new office in Houston, USA.
Read more