NEWS ARTICLE
Meet a Coach – Christian Råe Holm
Here at Coach Solutions, we are very proud of our most valuable and greatest asset – our employees. Without them – no Coach Solutions.
In our series of interviews of our employees, we have this time been talking to Christian Råe Holm, who is Head of Performance & Product. He has been with Coach since the early days – both we and our clients are enjoying Christian's approach to optimization and knowledge about vessel performance.
We "hate" to say this – but if you are playing Trivial Pursuit, Christian is the guy you want on your team….
Let us start with the basics, who are you?
I'm 39 years old, a father of two and married to my wife, Karen, for the last 12 years.
What is your role here at Coach Solutions?
I do a bit of everything. I support our existing and potential clients in getting the most value out of our system; I work with our product design team to figure out what will be the next exciting thing we should develop; and finally, I act as product owner towards our development team to facilitate an efficient development process.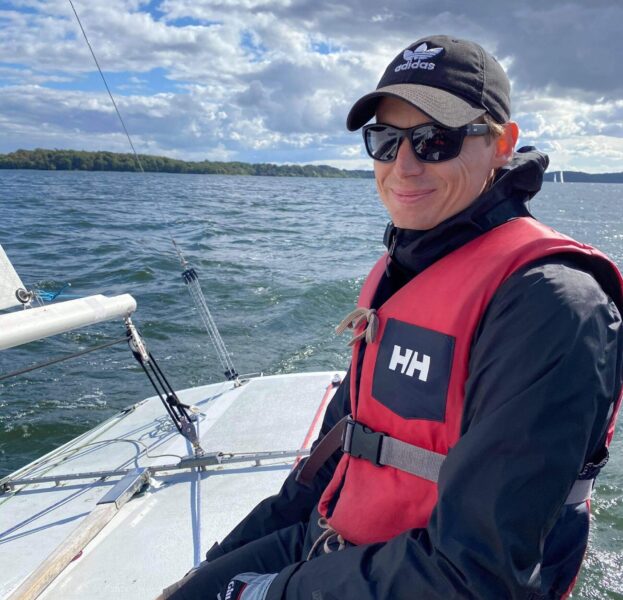 Tell us your "story" before joining Coach? What have you been doing?
I started my professional life by exploring the life as a seafarer, sailing a 6-month voyage with the Training Ship "Danmark" followed by an unfinished period of sailing as an officer's cadet with Maersk Line.
After going ashore, I took a master's degree in Naval Architecture from DTU (Technical University of Denmark) and after graduating I started working at FORCE Technology, in the team responsible for operating the only towing tank in Denmark. There, I worked for five years with CFD based hull form optimization and ended up as the team leader of the CFD team.
Why did you join Coach?
I found the idea of moving a bit out of the relatively theoretical calculations done with CFD and into actual operational data appealing. I could also see that COACH, which was a very young company when I started, had the potential to grow into something great and that I had a chance to help do that. We have not come all the way yet, but I am very proud of the company COACH has become and the small part I have played in getting us there.
Can you take us through a typical day for you here at Coach Solutions?
Voyage related queries comes directly under my official purview. My intention is to make sure the most optimized routing is relayed to the vessel. I address specific vessel I normally start by checking if any of our clients' vessels need an updated performance assessment and then I will have a couple of meetings during the day for sales presentations or with colleagues for discussing internal matters. The last third of my day goes with answering phone calls and emails from the clients I support with using the system.
Describe yourself as a person in a few words?
I am a reasonably extrovert generalist engineer, which helps me understand relatively complex subjects and convey them to people coming from different backgrounds than my own.
What motivates and drives you – both in your professional and private life?
I love optimizing and automating inefficient manual processes to the point where you could almost accuse me of being lazy. Apart from that, I thrive on trying to make sense of seemingly senseless structures and try to create order and predictability.
Tell us what you are doing after "punching out" or during the weekends?
I split my free time between being with my family, playing video games and being in nature – sailing, fishing, hunting and hiking being my favorites.
Other Articles

Coach Solutions integrates with Veracity by DNV.
With a mission to revolutionize the shipping industry, Coach Solutions delivers vessel data services to vessels and customers, providing easy-to-use and reliable software solutions that transfer validated data into actionable insights. The integration with the DNV built cloud platform Veracity, is a strategic partnership that will further strengthen Coach's abilities to deliver on the promise to its customers.
Read more